A mobile tele-imaging unit real-time connected to an eHealth expert site of remote interpreting.
In order to reinforce the access to care for isolated, older persons and to fight against medical "desertification" and favour home support, TIMM is the first mobile tele-imaging unit real-time connected to an expert site. Equipped with many tele-imaging devices connected via a telemedicine platform and a satellite antenna, TIMM ensures tele-consultation, tele-imaging and remote interpreting services.
TIMM enables substantial savings by considerably reducing travel distances for patients.

Your expert site, wherever you want it.
The multi-pathological telemedicine mobile unit includes a remote medical care with the very first digital remote-controlled tele-echocardiography, the first of its kind in the world.
Located anywhere in the world, the expert site performs via a satellite broadband connection, a remote diagnosis and monitoring of the examination at the Mobile Medical Tele-Imaging Unit, as close as possible to the patient's home.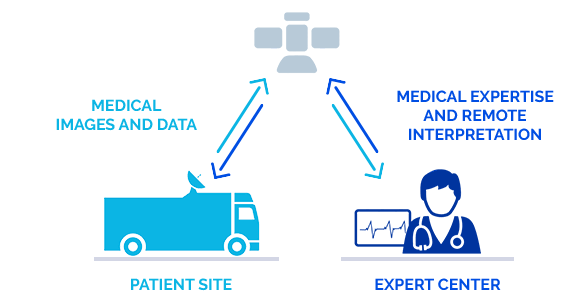 Medical products at the cutting edge of technology..
Medical specialties at the core of real-time mobile telemedicine.
Radiology, senology, cardiology, urological and visceral ultrasound, ophthalmology, dermatology, geriatrics, psychiatry…
Tele radiology & tele-expertise
Imaging of bone diseases.
---
Tele-ultrasound
Stomach, digestive, urologic and cardiac pathologies / diseases, products.
---
Tele-ophthalmology
Screening for diabetic retinopathy or AMD among older persons.
---
Tele-mammography
Early detection of breast cancer.
The first remote robotic tele-ultrasound.
(protected by many patents from the University of Bourges and ADECHOTECH company).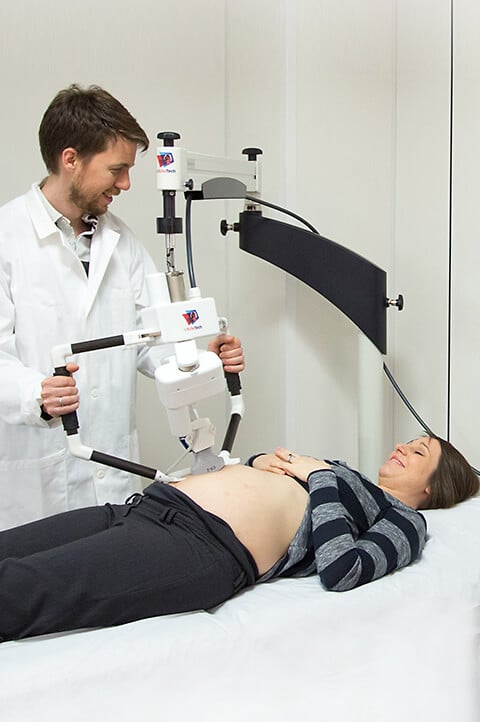 A mobile medical unit who for?
This very first mobile telemedicine unit offers to all medical and medical social institutions (nursing homes, care homes for people with disabilities …) from all around the world, specialized or multipurpose medical services.
It implements diagnostic and preventive care in remote areas of large cities or hospitals.
It constitutes a precious tool to support the delivery of health services in rural areas and especially for old people who are often faced with isolation and travel impediments.
This teleconsultation and teleexpertise service meets a strong rural need in terms of public healthcare (home care, prevention, screening, access to care and network of social and healthcare facilities…).
TIMM enables substantial savings by reducing the number of journeys for patients and improving care services and support for users.
TIMM enables substantial savings by reducing the number of journeys.